Old Master Detective
In the course of a long life I have bought about 30 paintings but never tried to trade them seriously. They were a hobby not an occupation. My interest has been in researching them particularly those which seemed to offer some unexploited potential: the painter Unknown, the scene unrecognised, the sitter unidentified, the provenance unresearched. My one success has been in identifying a portrait of Lady Delawarr and selling it to an American museum.
But overall I might like to think that I have been a successful old master detective but sadly that is not the case as evidenced by this painting which remains unique, mysterious, unrecognised and unidentified despite my considerable research. I have turned to developing a website after plaguing countless experts with my questions in a last throw hope that someone will know the answers.
I have been fortunate in having somebody else to design it as I know nothing about how to do it. Whether my photograph is a help or a hindrance is not for me to say but I have been advised to include it. Besides possibly quenching my question thirst I hope this website will provide some innocent and idle pleasure to viewers.
---
With great sadness I have to announce that the old master detective, my husband George, died in 2021. Aged 88 he remained active and devoted to his detective work to the end.
The family has decided to keep his website going in the hope that it will continue to spark curiosity and as a record of the many avenues of research into this painting that George pursued.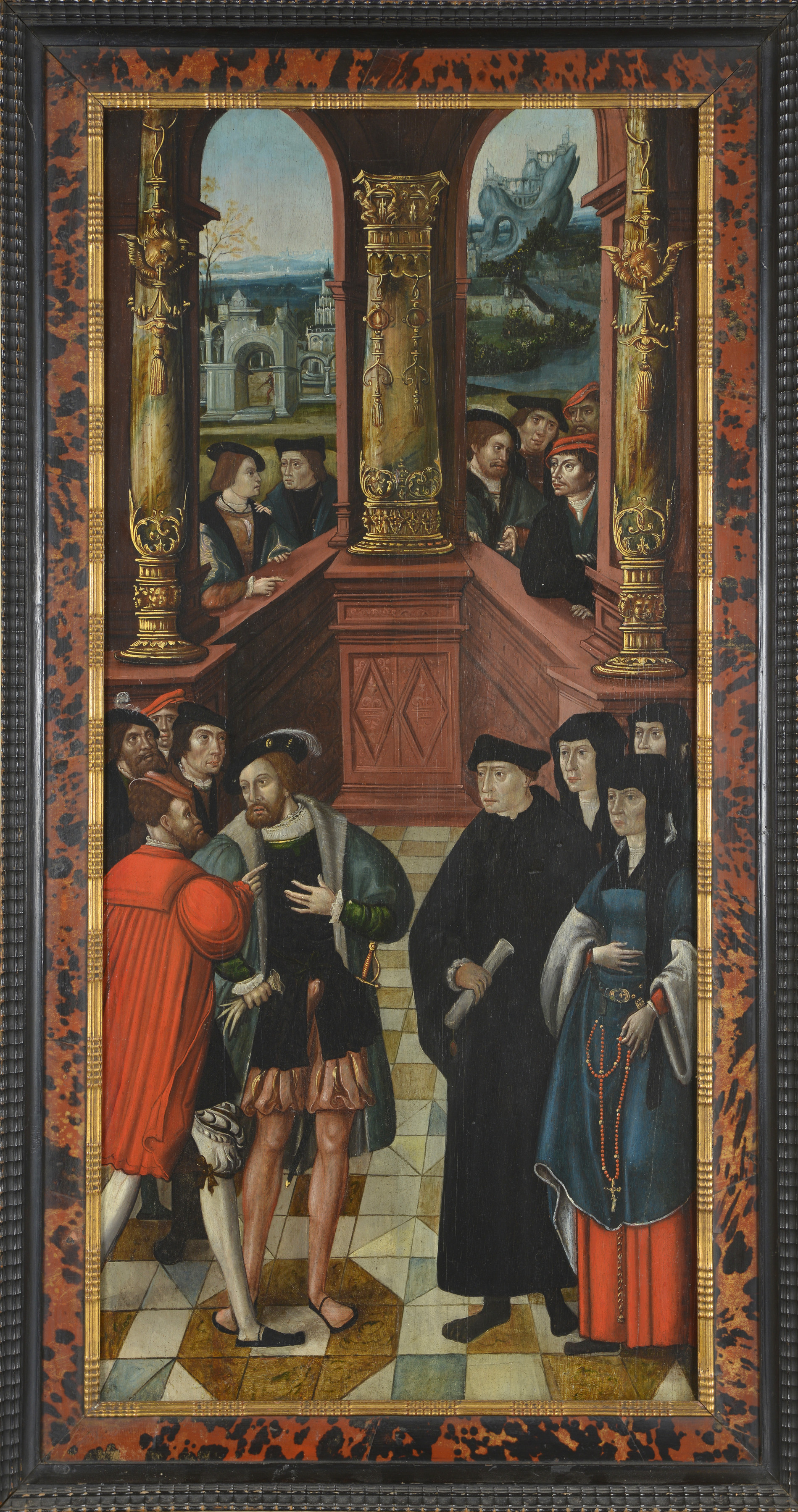 The author and The Painting
The Picture and the Questions
A unique, mysterious, unrecognised, unidentified painting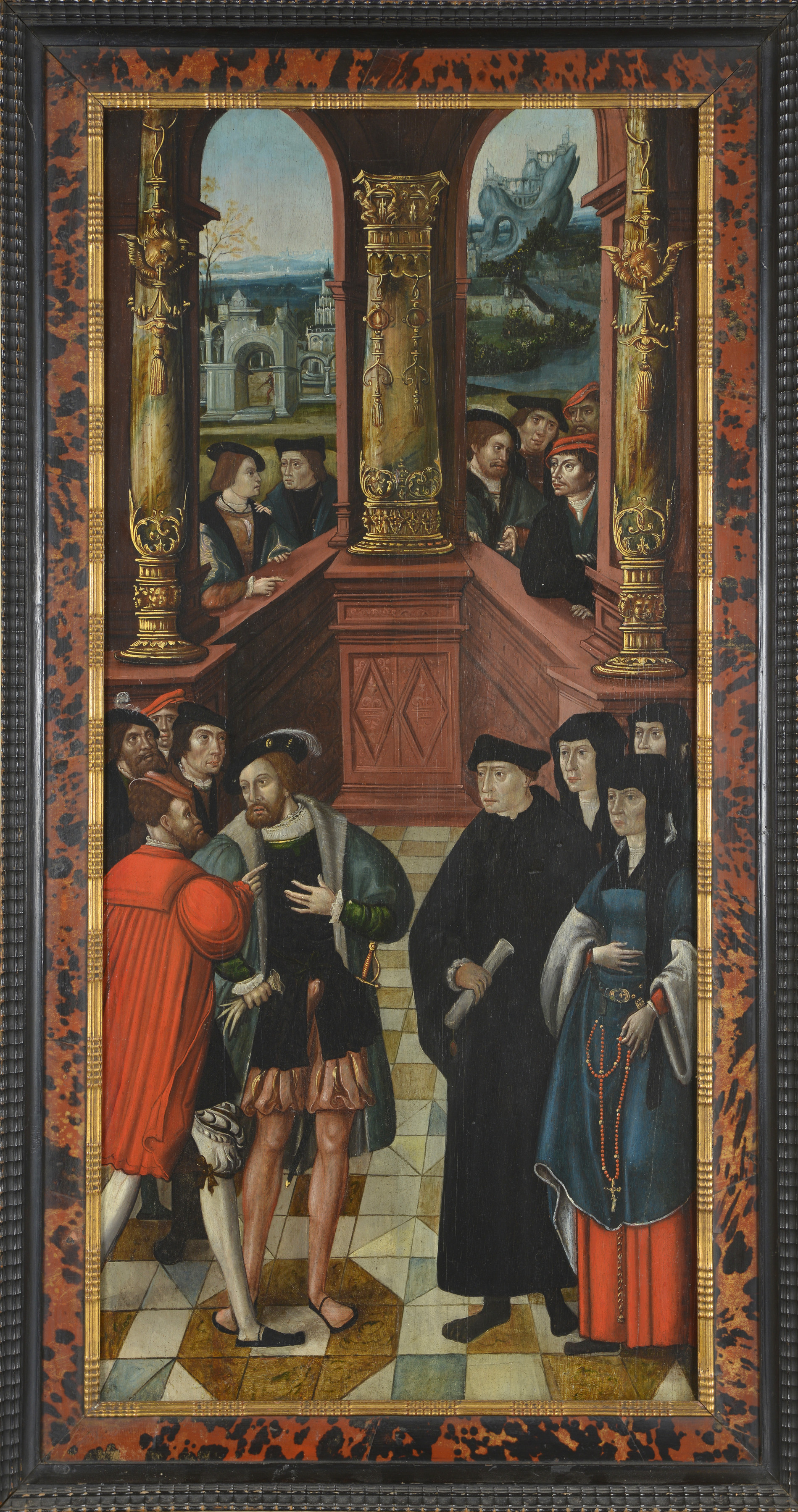 The Painting - 99 x 46 cm (111 x 58 cm including frame)
1. What is the scene being depicted? (The Scene)
2. Who are the figures? (The Figures)
3. Who painted the painting? (The Painter)
4. Where has the painting been since the early 16th century? (Provenance)
Examples of such evidence could be...
1. Knowledge of a letter or article written at the time which describes the painting and identifies the figures.
2. Knowledge of where the painting has been either in a storyboard or alone between its completion and its inclusion in the Lepke old master auction catalogue in December 1934 or in another auction.
3. Knowledge of underdrawings and their painter similar to those of the painting.
My Purchase
I was very lucky to notice a painting hanging in an antique furniture shop near the Portobello Rd in 1980. It looked appealing yet lonely and I felt compelled to buy it. The owner was selling it as school of Van Orley for a friend who had bought it at Sotheby's in the previous year. At 99 x 46 cm (111 x 58 cm including frame) it was an unusual shape and depicted no less than 15 figures somewhat theatrically posed. An old auction catalogue fragment glued to the back of the frame described the scene otherwise there was not much else to go on - one small obscure stamp also stuck to the back of the frame together with chalk marks and numbers - presumably the work of auctioneers. The owner lent me the painting for the afternoon and a dealer friend confirmed an Antwerp Mannerist attribution. I could not then and have not subsequently been able to account for the conviction that I had to buy the painting.
Anyway the painting was in remarkably good condition considering its age so restoration was little more than cleaning and filling in a long crack. Very soon it was hanging in my house and waiting for an interpretation, a wait that was to last until 1999 during which time several hypotheses were advanced one of which is indicative.
This interpretation was that the figure in black was Bishop George Egmont of Utrecht who at the age of 15 had met the emperor Charles V and was promised ecclesiastical preferment. A few years later Charles invaded northern France and in 1521 captured St Amand. He threw out the incumbent beneficiary, one Cardinal Louis de Bourbon, a protege of Francis I and appointed Egmont in his place.
So it seemed that the painting was an account of these happenings. Front left Charles and Francis confront one another open mouthed while in the centre, Egmond, clutching a relevant legal document watches the dispute with concern. Alongside him are 3 female members of his family.
But then the doubts set in, propelled by the scepticism of other viewers whose wish to unravel hypotheses was never matched by a desire to strengthen them. Who would dare to paint the most important man in Christendom in profile? Gradually this interpretation was eroded and a new one was up and running.
Over the years about 15 museums and numerous experts were consulted and practically all were nonplussed or wide of the mark. There was however agreement that the painting was circa 1540 Antwerp Mannerist and most likely from the Low Countries or Germany. Furthermore it was generally recognised that the painting was recording an important event - a 'photograph' in fact.
» Go to next section: What is the scene being depicted? (The Scene)
© 2021-22 · Website created Summer 2016. All paintings and illustrations owned by their respective authors and factual inaccuracies the sole responsibility of the website owner.